SEO Success Story: Client Drives Over $19K ARR, Ranks to Google Page #1
Ecommerce Company Ranks #1, Drives $19,537 ARR

Search Engine Optimization. You've heard about it. You may have an understanding of what it is or have heard about how it's helped bring business to other companies. You may even wonder if it can help your company generate revenue but you aren't sure if you'll see concrete results. I'm here to lay it out for you. Not only to show you the process but also to show you the conclusion. This is an SEO success story that includes the most important piece of the puzzle: RESULTS.
When it comes to SEO success stories, I have the perfect example. An ecommerce company came to me with a need to gain visibility in their market. When a potential customer used Google or another search engine to find companies like theirs, they weren't ranking high enough to show up in the top results. Their competitors would be at the top of the page but their brand was essentially invisible to anyone who didn't already know them by name.
So I mapped out a plan of attack:
Goals
► Rank to the top of Google and Bing for high quality, product-related keywords.
► Leverage blog and website content to build backlinks, drive traffic, and boost authority.
► Create a strategy to overtake key competitors and follow through on it.
Here's how I put the plan into action:
Approach
Competition Analysis
► I scoped out the SEO climate to see what keywords people are using to find similar companies and what keywords are working for competitors.
► I identified low-medium competition to find their highest value revenue-driving keywords and wrote landing pages designed to rank for them.
Optimized Content
► I wrote landing pages based on the keywords that are working well for the competition.
► I optimized the content to rank well in Google and other search engines (this is called on-page optimization).
Tracking and Re-optimizing
► I monitored Google's response to the content, analyzing each content piece with software that specializes in rank tracking (amongst other things).
► I identified the high value keywords Google ranked me for.
► I re-optimized my content according to the results to rank even higher.
Which brings us to the concrete evidence you've all been waiting for… *Drumroll*
Results

► After my final re-optimization, Google ranked my client to page #1 for our most valuable keywords (and a few page #2 and #3 spots too, thanks Google…).
► Based on my Google Ads conversions (for the same client), the estimated revenue driven from the keywords used came in at $19,537 in Annual Recurring Revenue
► Naturally, there's all sorts of other metrics that increased in the process, like organic traffic, organic backlinks, etc — if you'd like more details, shoot me an email or text!
This is all in less than 2 months of work (it can easily take much longer though).
Sidenote: The Google Ads campaign I built for this client drove $24k in the same amount of time, but we had to invest $3,540 to get it — organic traffic (once you rank your content) is free!

Need SEO results like these? Shoot me an email and I'll get back to you in the next 24 hours or less — [email protected].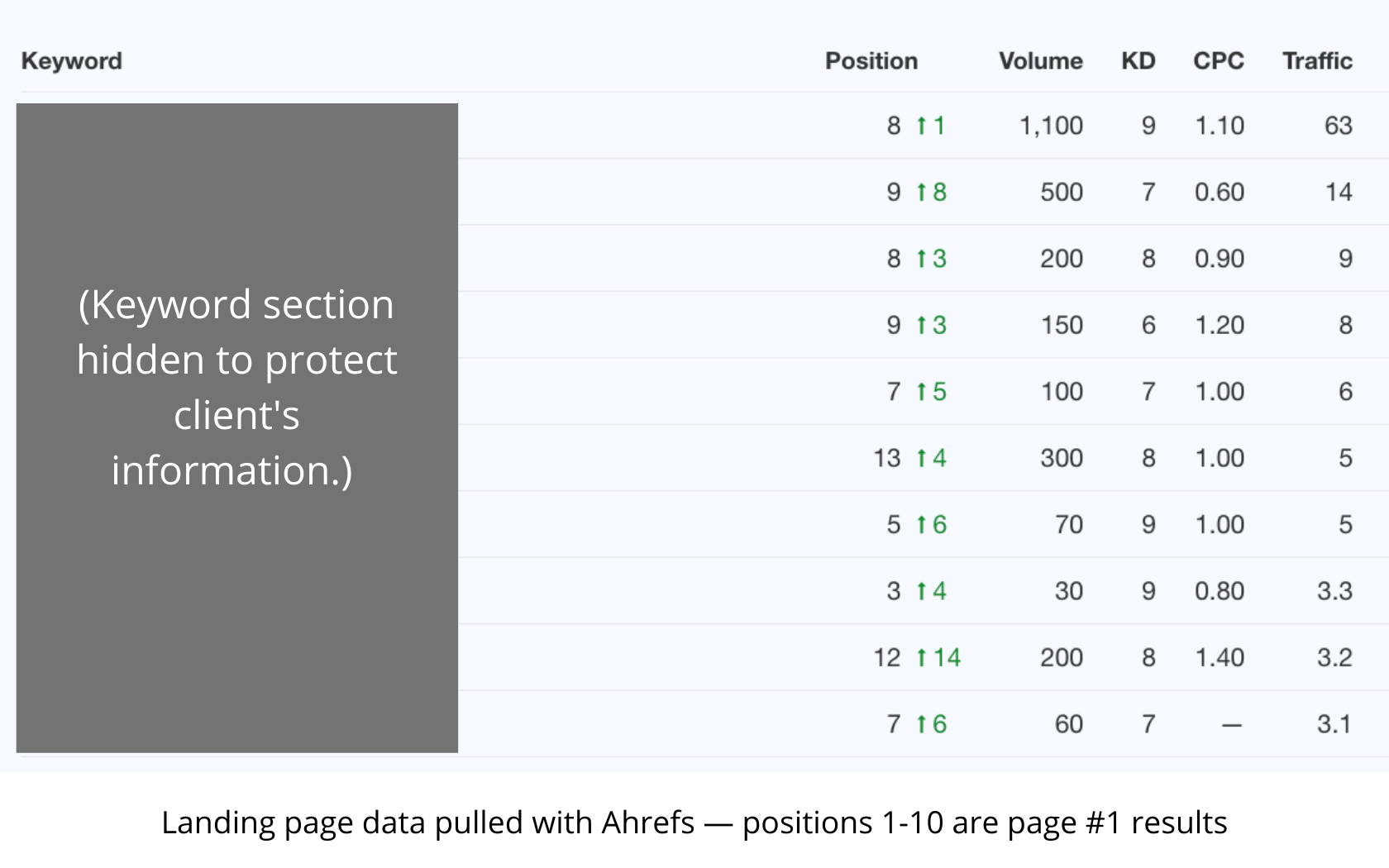 Final Thoughts
For some reason, most of the SEO success stories I've read seemed a bit vague, with metrics like "doubled organic traffic in 30 days," which could be great, but if the traffic started at three visits per month and now it's, you know, six? You know what I'm saying. I started thinking how difficult it would be to invest in a new SEO campaign based on that kind of evidence. It made me realize that I need to show you the process from start to finish, and clearly show you the metrics. The numbers don't lie.
I believe my content and SEO will help your company claim prime Google real estate, ranking to the top for revenue-driving keywords. This will boost your organic search traffic and drive revenue you never thought was possible. Search Engine Optimization is a powerful marketing tool. If you'd like the opportunity to put my content and SEO to work, shoot me an email or text and we'll set up a time to talk.