Search Engine Positioning | AKA Google Positioning
Search engine positioning is regularly optimizing and re-optimizing your content so you can rank better, especially for keywords you've identified as likely to rank well in the SERPs. It's all about incremental improvement; ranking a little higher, and maximizing your SEO real estate. It can be surprising how quickly this type of work adds up. Here's a quick example:

If you look at the last 2 months on this screenshot (a client's analytics) — roughly 80-90% of that increase came from search positioning. Yes, I'm doing a ton of other SEO work for them that isn't search positioning, but aside from pillars (or skyscrapers if you prefer – more on those in coming posts), search engine positioning has been the heaviest hitter in terms of results, and it's the main thing I focused on for them over the last couple months.
So far we're sitting on a tidy 657% increase in organic traffic, and that's almost all from revenue-driving keywords. They still don't have revenue tracking/attribution set up, but based on other clients I've had in the legal industry, this should represent at least a $50,000 increase in annual revenue, and probably a good bit more. Very profitable either way. And again, search engine positioning played a key role in this process.
Along with regular (and quality) content, this strategy should take the lion's share of the credit for those results.
Why Search Engine Positioning Is Vital To Your Business?
Everyone knows the top 3 results in the SERPs get the vast majority of the traffic. But what some people don't know is that moving up even just one or two positions outside of the top 3 results can drastically improve your CTR and organic traffic. Let alone moving up to one of the top 3 positions. That's hitting a vein of pure SEO gold. Search engine positioning helps you do exactly that. (When you do it right anyway.)
Meaning, it's got to be more than just ranking a little higher. Today's search engine positioning demands a more sophisticated approach than just pounding at your keyboard to make a keyword rank a little higher — Page #1 of Google now has:
Knowledge graphs
Featured snippets
Top stories
"People also ask" boxes
Video results
And sometimes it seems like they're adding more every few months.
Check out this page #1, position #1 SERP for the search term "how to get featured snippets in google":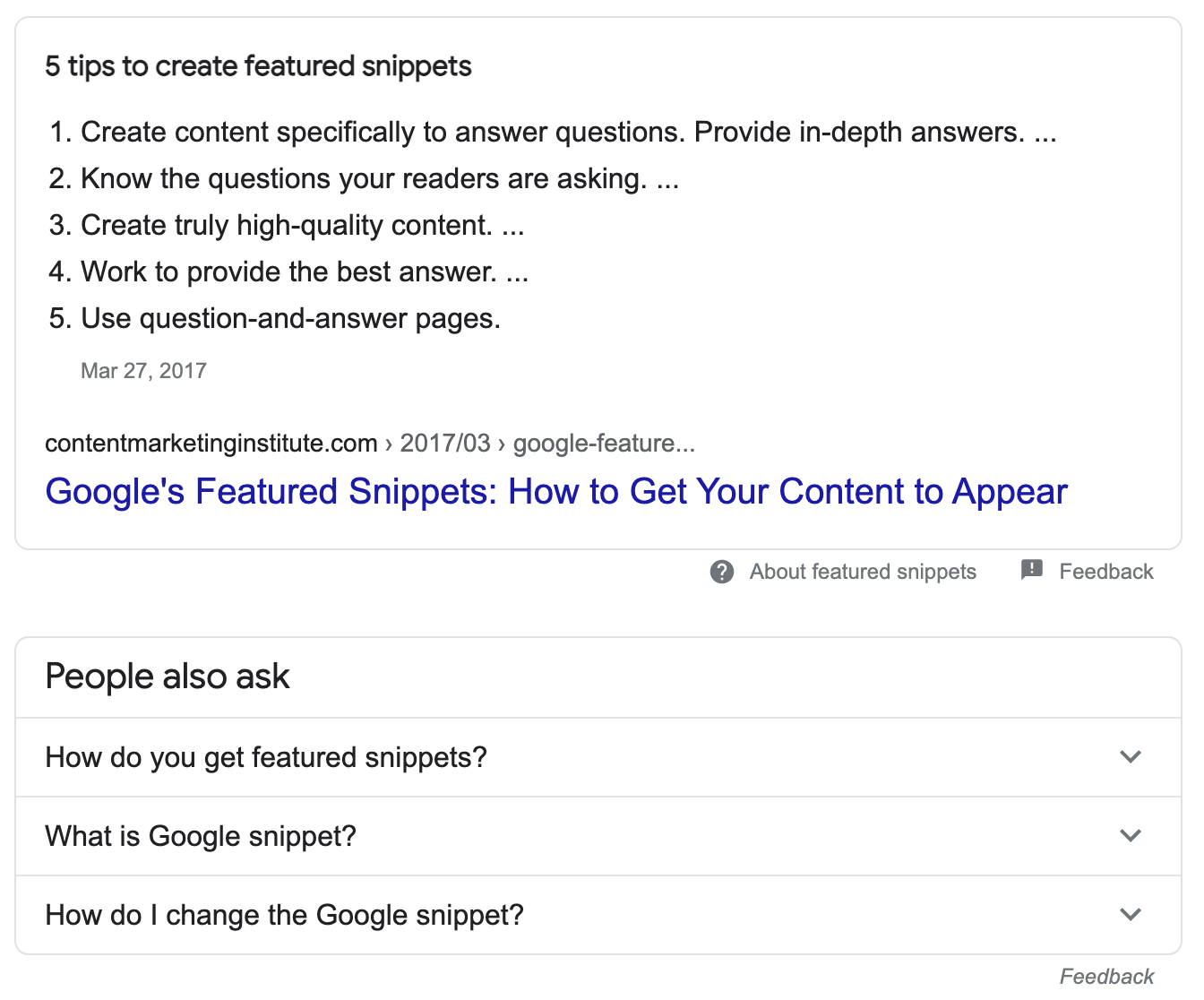 See that chunky Featured Snippet box about feature snippets at the top? Glorious. Very well done by the Content Marketing Institute.
And see the "People also ask" just below it?
Optimizing to rank as high as possible is great, but ranking to the same SERP, more than once, with max visibility thanks to a nice, chunky rich snippet? That's awesome.
So, we all want to do that of course. The question is, how. How do you take your search engine positioning (AKA Google positioning) strategy to the apex, and maximize your SEO results?
Step #1: Re-Optimize Your Content
Are all of your pages 100% optimized for SEO? If you're like me and 99.9% of even the best SEOs, they're not. Because even if you optimized a page once, a lot of times, Google will rank you for a different keyword than the one you initially optimized for. When that happens, you can re-optimize for the most valuable (and likely to rank high) keyword Google is ranking you for and push it higher in the SERPs. Even after you re-optimize, there's almost always new opportunities that arise over time, so continual re-optimization an every day part of an SEO's life.
But keep this in mind. Your page #1 and page #2 content pieces take the highest priority by far. Because they're already 90% of the way there. That is, Google has already decided to rank those pages high for a specific keyword/group of keywords, so it won't take as much to rank it to the higher SERP positions.
So here's the million dollar question again. How?
Good search engine positioning starts with some well-placed on-page SEO, and ends with your best UX implementation. Do that right and Google will bump you up a notch or two, and sometimes a good bit more. In fact, I've had many keywords rank 20+ positions higher with a single re-optimization. And that happens a lot more than you might expect.
Your best friend in this process is Ahrefs, and your second best friend is Google Search Console. We" start with the latter.
Here's my #2 way to find pages primed and ready for some good old fashioned search engine positioning, using Google Search Console:
Go to your website's "Performance":
Sort the "Queries" by position.
Scroll to the keywords that have an average position of 2 to 10 (and page #2 keywords are fine too, if you see the page has strong potential to rank).
These are your top priority pages. (To see the pages on your site that rank for those keywords, just click the keyword, then click the "pages" tab).
Now, here's my favorite method, using Ahrefs.
First, go plug your website's full url into the search bar at the top of the Ahrefs dashboard
Next, click the "Organic Keywords" link on the left sidebar, in the "Organic Search" section
Here, sort the keywords by position, and find the keywords ranking around position 2 to 10 (and again, page #2 keywords are fine too, if you see the page has strong potential to rank).
These are your top priority pages.
Your ideal situation at this point is to optimize and/or re-optimize these pages to rank as high as possible, both in the normal search results, and again, in as many of the following as you can:
Knowledge graphs
Featured snippets
Top stories
"People also ask" boxes
Video results
After identifying the best pages to start with, you need to start the optimization/re-optimization process, which is very difficult to describe because of the massive amounts of variables involved that make no two pages alike. Generally speaking, if it's poorly optimized to begin with, you'll want to fix the on-page of course, then move on to the rest of the work.
If it looks like the content is a bit thin, you can beef it up with quality content that your visitors will appreciate.
If your UX has been weighed and found wanting, that's a big thing to fix. Google's algorithm has improved drastically on this front, and absolutely brutalizes content with shoddy UX.
I'm not going to go through all of the scenarios you may run into, but if you have a situation you'd like some feedback on, just shoot me a message and I'll get back to you.
For each page that you wish to enhance, repeat this process.
Step #2: Leverage Internal Linking
At this point, your page is looking somewhat sexy. Now, you must develop internal links leading to that page.
Essentially, the objective is to incorporate internal links in your site and create a strong internal link system, especially linking on and to the main pages. Your high link authority pages should lead to the relevant pages that need a boost in rankings.
By now, you'll know the pages on your site that have the highest link authority.
If don't have this information, just use of an SEO tool like Ahrefs to identify your pages with high link authority.
All you need to remember is that your internal links should contain smart anchor text. Here's a guide on anchor text best practices, because it's vital to get this right.
With this anchor text, Google is able to recognize that your particular page is related to your target keyword.
Step #3: Optimize For Organic Click Through Rate
Your organic click through rate (CTR) is used by Google to determine the results that are relevant and those which are not, for the particular keyword/search term. (SEOs generally agree on this, but not everyone.)
For instance:
Let's say Google Search Console has deduced that your page's rank is #8 on Google, while its CTR is approximately 1.4%.
You manage to re-optimize and get the CTR to 4%, so Google's algorithm recognizes that the page has become more popular and is getting more interactions. And as a result, they bump you up a few positions to position #3, and your organic traffic to that page triples as a result.
On the other hand, a drop in the CTR to .4% would convince Google that people are not interested in this page for that specific keyword. As a result, you'd be pushed to the second or third page (or whatever).
Watch this video on increasing your CTR to learn how to secure a better CTR in Google.
Step #4: Enhance Your Core Web Vitals Score
Your Core Web Vitals is just a simple search report in Search Console, that informs you about the performance of your page, using real-world usage data.
That is, Chrome data is used by Google to learn about people's engagement with your site, and this data is shared with you.
Although the Core Web Vitals report does not directly determine the ranking, it is still a good idea to optimize your site based on that.
Why?
Because your search engine positioning would be affected by a bad user experience.
If your page loads at a slow pace and your content are difficult to decipher, users of Google will instantly click on the back button once they click on your website.
The result is that your bounce rate will dramatically increase, and the overall dwell time of your page is affected.
The ranking of sites with low dwell times is usually lower in Google search results.
However, that is a tiny part of the overall problem. Your SEO can suffer due to a bad user experience too.
When bloggers find your page and enjoy your content, and your Core Web Vitals are optimal, they will most likely come back to you in the future.
On the other hand, bad UX on the site will repel them away even before they begin to read your content.
So it is definitely recommended to frequently assess your Core Web Vitals scores, so you can enhance them optimally.
Step #5: Same Keyword, Several Results
This strategy definitely falls under ADVANCED SEO tactics. If you're just starting out, I highly recommend paying attention to the first four steps above.
But note that your site's positioning can drastically improve in the SERPs if you do this. So this step is really worth it.
This holds true, especially for crucial keywords for your specific business.
The only proven tactic here is to create two pages that deal with very similar topics and create a strong internal link system between them.
You can't be 100% certain that both these pages will rank well, so it's definitely hit or miss.
That said, it's definitely worth a shot as ranking two times because this will practically double your positioning on the search engine for that specific keyword. 
Another alternative to enjoy more SERP real estate – you can rank content from various websites in relation to the same keyword, and create a strong link ecosystem with and between them.
Step #6: Optimize for Mobile Search
Mobile browsing surpassed desktop waaaay back in what, 2016?
Stats show that nowadays, well over half of all browsing happens via a tablet or a phone.
In response to the new mobile trend, Google created the so-called 'mobile first index' which meant that your site's mobile version is now what the search engine focuses on and indexes first. A few months before that, the company released AMP which stands for Accelerated Mobile Pages. This was done as a response to the fact that browsing now is being conducted more on mobile devices. Those pages utilized stripped down HTML which helped for super fast loading.
All that to say this. If you would like to have a good search engine position, it is crucial to set up your WordPress website for AMP.
How do you get started? Check out the AMP plugin and read up on it. That'll get you caught up there (if you need it).
Step #7: Optimize for Voice Search
Voice Search Is Booming
In the middle of 2016 Google said around 20% of all searches on the web are now done via voice search. It was estimated that by 2020 the percentage would become close to 50%. they weren't far off. Today, 55% of teens use voice search daily.
Just a quick look at the dramatic growth of voice searches is enough to see why this is uber important.
Voice searches, as you know, happen through assistants like Siri, Google Assistant, Alexa, Cortana and others.
In contrast with the text search where users usually use strict keywords to find what they are looking for, with voice people are a lot more conversational.
How to Optimize for Voice Search
Here are a few ways to get started:
Put more conversational phrases in the content
If you don't have a FAQ page you should definitely include it and fill it with simple answers which could be extracted by the search engine
Using Structured Data Markup will allow the device which uses voice search to find out clues connected to the essence of the content 
Put in longer tail keywords – as stated above, voice search is a lot more conversational compared to text search
If you would like to learn more about voice search optimization, SEJ is one of my favorite places to learn new SEO tactics. Here's their take on voice search optimization.
Step #8: Optimize for 'Rich Answers'
Google's Rich Answers are those lovely featured boxes of info that pop up at the top of the results when the Google provides you directly with the answer to your question (so you don't have to click on any links). 
It's a featured snippet.
Here's an example: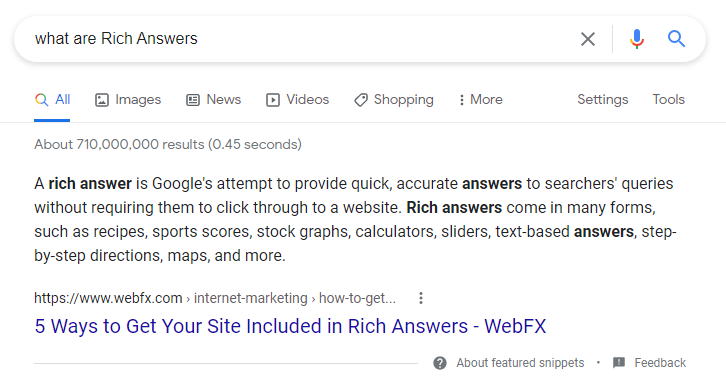 Being able to appear as a 'Rich Answer' is a great way to improve your site's visibility. This is why you should strategize and optimize to set yourself up for maximum success in achieving such positioning.
How? Here are a couple of tactics you can get started on today:
Use Schema Markup
This is how Google pulls the necessary info from the source code of your website and adds it to the so-called Answer Box.
Here's what it looks like when you enable Schema Markup (the right way):

In the screenshots you can see the helpful links beneath the result showing additional pages that may be relevant and helpful to the searcher. This helps this result stand out from the rest, and can increase its click through rate and of course help it get more clicks.
Create a FAQ Page
This is one of my favorite methods. Google looks for answers to include in its Answer Box by accessing the FAQ pages of the websites. Working on this part of your site will help you appear as an answer in the search results.
Pose a Question & Answer it in a Blog Post
If you want to be included in the Answer Box, then your content should be easily understandable by Google, and the answer should be the best answer you can give in around 250 characters. Search snippets can be up to 320 characters long, but I feel like I get the best results keeping the characters to around 250 or less.
Turn Your Headline into a Question
A good way to optimize and increase your chances of getting good positioning is to structure your headline as a question and include your keyword. Then, put the answer right below it.
If you want to see questions that you could answer, just type a potential query in the search bar like this, using an asterisk to act as the placeholder that Google replaces with options: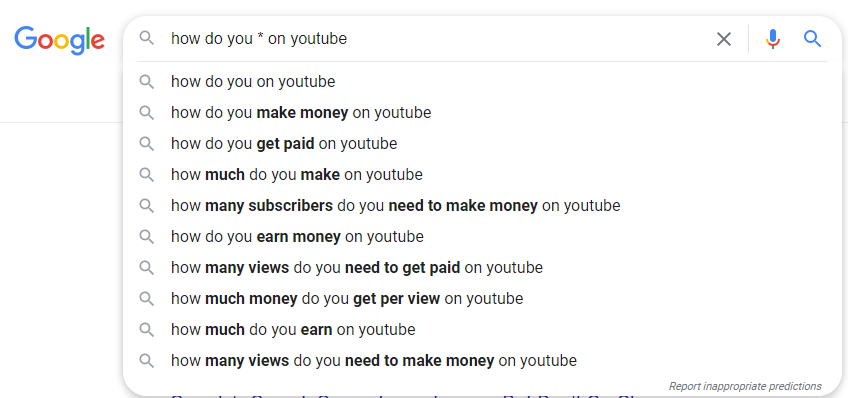 What this does is provide you with the most popular searches related to how to do things on YouTube.
Another great hack is to choose one of the options and look at the 'related searches'. They usually appear as related questions searchers ask: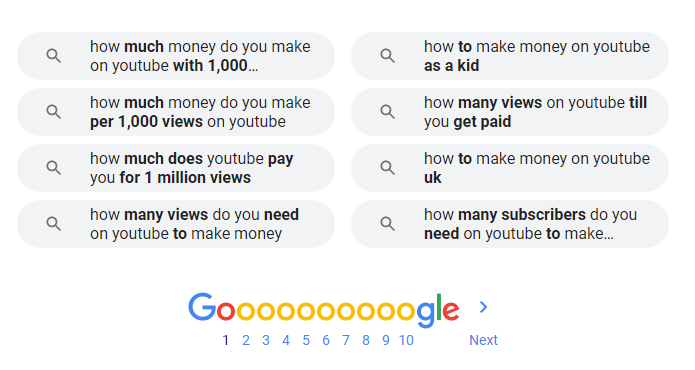 Learn More About Google & SEO Positioning
While enhancing search engine positioning for a particular page is a crucial component of SEO, it is far from the only aspect. Your best bet is to learn how to build a holistic SEO plan from the ground up and implement. (Moz's SEO Guide is a great start if you're a beginner)
Check out how Lace and I ranked to page #1 of google for revenue-driving keywords [Step-by-Step Case Studies]: These success stories demonstrate several strategies, some of which were explained in more detail in this article. Other topics, such as content marketing, are also covered, as they have been crucial to the success of our clients' SEO.
Here's to your SEO success!